Rhonda Gay is a physical therapist who specializes in orthopedics, sports medicine and pain management. Rhonda uses bodywork on horses and dogs to help discover their ailments and what affect pain has on animal behavior. She is sharing some amazing stories about her work with horses, dogs, and even a gecko! You are going to love this episode of two animal communicators discussing how they connect with animals in a variety of ways.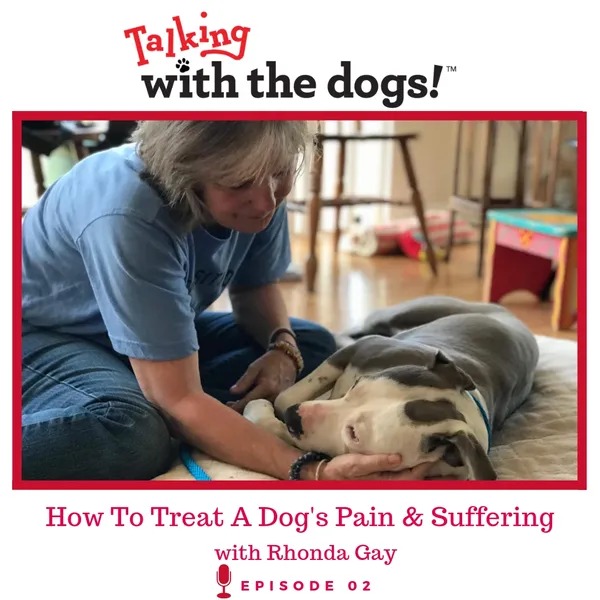 It's time to start listening to the animals!
What we're talking about
– Animal Behavior
– Healing Animals
– Dog Listening
Animals Behave Differently When They're In Pain
When animals are in pain, they behave differently, but without the ability to talk to humans, often times their behavior is mistaken for getting older or bad behavior. Animals also radiate a type of energy and when they are fearful, that energy feels very different from a happy energy and as an animal communicators, Rhonda can feel this difference.
Discovering Pain in Animals
Rhonda has been called by pet owners on a number of occasions to look at an animal because the owner feels it's probably time to put it down, yet when Rhonda looks into the animal's eyes and starts communicating with it, they will tell her what is causing them pain. Rhonda shares two amazing stories about a pony who refused to stand and a gecko who refused to eat for 6 weeks and how she discovered both of their ailments to help heal them.
Listening To Animals
Often times we are called dog whisperers or animal communicators, when in fact we are listeners. We listen to what the animals are telling us and how they feel. Whether it's looking into their eyes, feeling the energy they are putting off or listening to what they are saying, the communication we are doing with animals is to listen to what they have to say.
Have you listened to your pet today?
LINKS MENTIONED
Rhonda's Email: [email protected]