Sheri Salata, cofounder of the inspirational lifestyle brand, The Pillar Life and cohost of the podcast, "The Sheri + Nancy Show," is joining Liz with her dogs, Kissy and Bella. You may know Sheri from some of her previous ventures such as her 20-year career with Oprah Winfrey serving as the Co-President of Harpo Studios and OWN, the Oprah Winfrey Network. She has been named one of Fast Company's 100 Most Creative People in Business, The Hollywood Reporter's Women in Entertainment Power 100 and the 2017 Feminist Press Power Award winners. Sheri's new memoir The Beautiful No and Other Tales of Trial, Transcendence and Transformation has been named an Amazon best seller for new releases and an Apple audio book "must listen."
A dog's best friend can be a human!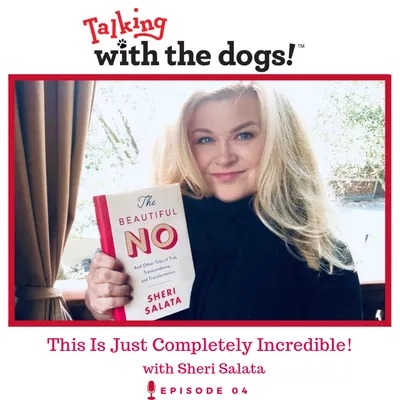 What we're talking about
– Dogs Have Individual Personalities
– Knowing Your Dog
– The Beautiful No
Dog Personalities and Preferences
Having two dogs is just like having two children…no two dogs are alike and they each have their own personalities and preferences. Kissy and Bella are no exception. The one thing that both Kissy and Bella have in common is their love and admiration for their dog mom, Sheri. They hold her private information close to their hearts and are proud of her for her accomplishments.
Understanding Your Dog
As an animal communicator, Liz is able to share with Sheri what Kiss and Bella enjoy and notes how protective Kissy is of Sheri when it comes to other humans. Sheri admits that both dogs have an understanding of the vocabulary she uses with them and in turn she feels an awareness of what she projects on them. Sheri feels Liz's communication with the dogs is very accurate in what she thinks and feels Kissy and Bella are about.
A Chapter About Kissy & Bella
In Sheri's new book, The Beautiful No and Other Tales of Trial, Transcendence and Transformation, she dedicates an entire chapter to Kissy and Bella. No, Liz hadn't read that part of her book yet, but if you want to get to know these sweet pups better, then be sure to grab your copy! Having Kissy for the past 9 years and Bella for 11 years, these two dogs are truly Sheri's children and she is their dog mom.
Every dog has a story!
LINKS MENTIONED
The Beautiful No: And Other Tales of Trial, Transcendence, and Transformation