Megan Galane, podcast host of Women Building Wealth, was hoping to foster a dog, but instead fell in love with Baby, a pitbull-lab mix who if sent to a shelter would be at risk of being put down. Megan was hoping to get to know Baby more in this session and uncover more about who she is and what she loves in life. Get ready for a treat, because Baby is a drama queen who loves the queen part!
It's time to start listening to the animals!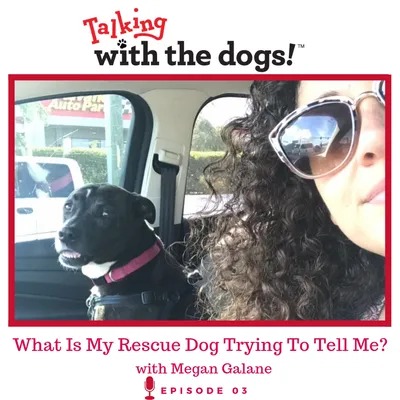 What we're talking about
– Finding Your Forever Dog
– Dog Personality
– Food Preferences
Dogs and Humans Know When They Are Meant To Be
Megan set out to be a foster parent to a dog in need, but along her search, she met Baby. Baby stole her heart and the feeling was mutual. From the moment Baby jumped into Megan's car to the fact that Baby respects the limits and boundaries Megan sets to the incredible bond they have created together, Megan and Baby are each other's forever.
All Dogs Have A Personality
To an outsider, a dog that is part pitbull may get a negative rap from the start, but in reality, once you get to know any dog, they have a personality that shines through, especially when they find a loving owner, such as Megan. Baby had a past of being aggressive towards other dogs, but in reality she's a softy at heart and Megan knows this which is why their bond so early on is so strong.
What's For Dinner?
Megan wanted to know if Baby was enjoying the new food she recently switched to. Baby gave it a resounding yes but also put in a request for some human food to be mixed in. Mixing pumpkin or greens with your dog food not only makes your dog happier but it also helps prevent cancerous cells.
Dogs just want to be loved!
LINKS MENTIONED