Ivy is 12 years old and lives with her family, including 100 pound Bernese Mountain dog, Captain. She loves animals and is fascinated by Animal Communication and learning how to tune in to dogs and understand and hear for herself what dogs and animals have to say! Listen to what Captain wants Ivy to know about his preferences when it comes to food, schedules and play.
It's time to talk with the dogs!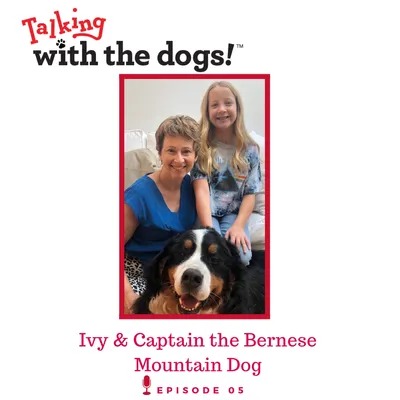 What we're talking about
– Dogs Like Consistency and Schedules
– Playing With Humans
– Dogs Love Walks
Schedules Aren't Just For Humans
Ivy and her family set schedules, especially with school starting again, but Captain made it known that he would also like to be included in that schedule. Captain prefers a schedule because it provides consistency and sets an expectation when it comes to food, exercise and play time.
Dogs Don't Know When The Rules Have Changed
Dogs understand what it means to play and love being able to interact with humans, but when someone changes the rules in a game, such as tug-of-war, dogs don't understand that. Ivy shares that at times when Captain plays with her and her friends, he doesn't understand when the other kids change the rules of the game and it irritates him. Liz helps Ivy appreciate that you can't just change a game or the rules on a dog and the importance of training when it comes to dropping things.
Get Out and Exercise
Dogs love time with their humans and Captain is no exception to that. He loves when Ivy spends extra time with him but he has also asked her to take him on more walks. Ivy asked about changing his food and Captain was quick to respond that he simply needs more walks in his schedule!
Are you spending extra time with your dog?